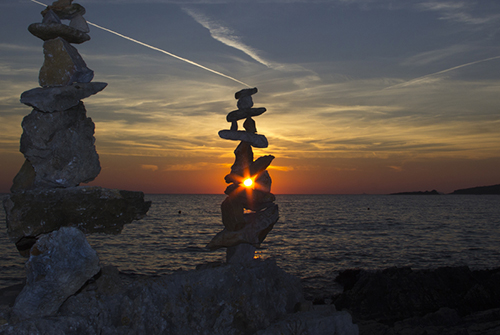 A reflection on active mindfulness.
This moment is eternal, dynamic and ever changing. It is all possibility when we meet it without expectation; with a beginner's mind.  But for most, this is not the case.  As such, most people experience it based on their biased narrative – the program formed from what has come before.  An often skewed perspective from past experiences in their life and ancestral lineage that remain unresolved.  If we dwell in the mind, we can only be in the past or the future – both of which are not even 'here'.  Coming from the mind is like looking at a photograph of the sun setting.  The mind tells us it's the sunset, but our heart knows otherwise.  At the end of the day, wouldn't you rather see the actual sunset?  
Reality appears as a constant and indivisible stream. In actuality, we perceive from a flow of different points of view.  Since most of us bring in the same point of view over and over,  it doesn't appear to shift all that much.  As we release what we carry from the past, we notice the moment changing with us.  When we are willing to do a bit of introspection and see what's inside, we find the truth that sets us free. This willingness, not belief is all that is necessary.  This is the work:  Unraveling the past hurts so that we can see the moment for what it is – a life of possibility; of divine expression; a life of meaning navigated from the heart and not anything less.   
 – John Newton from his Advanced Video Series.  John considers his work complementary and supportive to the healing work of doctors and therapists rather than as an alternative to their treatment. www.healthbeyondbelief.com #AncestralClearing #Consciousness #Mindfulness #ComplementaryHealing