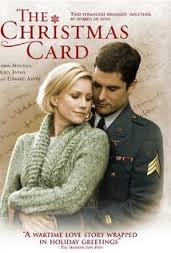 The Hallmark Channel loves Christmas movies and 'The Christmas Card' is no exception. Released nine years ago while I was still in the acting world, it was their highest rated program ever. I am grateful to have been a part of something that has touched so many. (They are airing it more than 15 times this 2017 season!)
The Christmas Card Experience for All of Us
Every holiday, I receive many store bought cards with no personal message – some from family; some from friends. It puzzles me that anyone would take the time, money and energy to send these. Would you rather have a TV dinner, or a home-cooked meal?
And here in lies the heart of the film: Faith sends a 'personal' greeting to an active duty soldier (me as Cody) and it makes all the difference in their lives. After a traumatic experience in battle sends Cody into a soul-searching journey, he goes on leave seeking the sender of the card that meant so much to him.
You Can Make a Difference
It's easy to lose sight of what the holy-days represent. Ho ho how the holiday music and shopping machine seems to greet us earlier and earlier each year. To me, The Christmas Card story reflects that simple gestures from the heart can have a profound effect beyond what we can fathom. In a world where most of humanity is suffering to various degrees, we have the ability to rise above this condition. This occurs when we are willing to step out of self-serving behavior and into family and community first.
Take Time for Yourself
The irony of this is that we are only truly able to put other's needs first, when we have handled our own. This is like putting our oxygen mask on first before we help others on the plane.
So much of our past experiences go unresolved only to keep affecting our current life conditions. The Ancestral Clearing work that I offer allows you to make peace with the past by connecting with the higher power of your understanding and come from the heart. Of the five techniques I use in my practice, one rules supreme:  Forgiveness.
Miracles Anyone?
Before you say, "I know what forgiveness is…", take a moment to see for yourself.  What makes this specific practice so helpful for releasing old hurt and limiting beliefs is that it includes humility and gratitude. Think of it as a recipe. Whatever your faith is, this work can support you on your journey. You can create a life worth living not just for yourself, but for everyone you share this planet with.  
-John Newton
Experience a life of possibility by releasing the past with Ancestral Clearing. You can watch free videos to support your physical, emotional, financial and spiritual well-being here.